This post is not sponsored, however it may contain affiliate links. I may gain a commission if you shop through these links.
These views and opinions are my own and I will always give an honest review.
Originally I called this recipe Avocado Pudding Deep Conditioner, then I thought "no, Avocado Smoothie sounds better. However for the sake of not misleading the interwebs, and then having people lament in the comments about this not being an edible recipe, I decided to keep it simple and obvious.
Now if you decide to only work with the edible ingredients below, you'll actually have the base for a delicious avocado (salad) dressing or a dipping sauce. All you'll need to do is add some herbs, spices, and S&P.
Photo Credit: http://imgur.com/gallery/AZoRxSp
But that's not why you're here, is it?
This week I'm sharing this deep conditioner recipe because there's no avocado I know of that deserves to die a dumpster death. Basically, I went on a weekend trip, forgot about this avocado and it was way too soft and too ripe to make for good... anything that needs to be tasted by the time I got back. So I harkened back to the days before my locs could be put into a ponytail - when all I'd do is play in my hair with endless products and whipped up concoctions.
This recipe is similar to a number of recipes I've tried previously, and avocado is a major key🔑here. This is something you learn after trying this recipe with banana. Spoiler alert! Banana really likes setting up house and home in your locs if you're not careful. If you've got locs... Don't do it! Please don't do it! *Drake voice*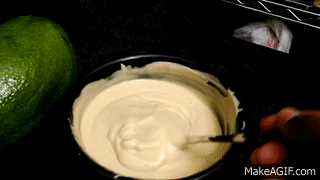 Here are the benefits of the ingredients I used in this recipe:
Avocado:
Avocado is a rich source of protein and fatty acids which help in strengthening hair. Moisturizes hair. Promotes hair growth. Aids in health of scalp.
Kefir/Yogurt:
Conditions. Aids shine, lustre and smoothness of hair. Combats dandruff. Aids in hair growth. Fights frizz.
Mayonnaise:
Strengthens and restores hair due to proteins from eggs. Adds great shine.
Be mindful that too much protein on your hair may encourage breakage by making the hair more brittle, so be mindful of your hair and its needs. Don't over treat with protein.
Olive Oil:
Seals in moisture. Helps with frizziness. Rich in vitamins and antioxidants. Conditions hair and scalp.
Jojoba Oil:
Promotes hair growth by aiding in removal of sebum that builds up on scalp. It helps replenish natural oils and maintain normal balance of the scalp.
Essential Oils:
Different essential oils will address different issues. Do your research to chose oils that meet your needs. I use tea tree for antibacterial & anti fungal properties. Peppermint stimulates scalp and also has antibacterial properties to fight dandruff. Cinnamon oil because it adds a great fragrance, stimulates the scalp, and promotes hair growth
In the video below you can follow along as I prepare this recipe. I do my best to be as detailed as possible. In a blog post and video soon to follow, I'll share how I apply this deep conditioner to my locs, and my results. Keep scrolling for the recipe and quantity adjustment suggestions for different hair lengths.
Would you try this recipe? Let me know in the comments!
Jojoba Oil used in this video: http://amzn.to/2gqBz0k
Plain Jojoba Oil: http://amzn.to/2g48Udk
Olive Oil: http://amzn.to/2g2HKT1
Peppermint Essential Oil: http://amzn.to/2g44JP0
Tea Tree Oil: http://amzn.to/2g3MNGC
Cinnamon Essential Oil: http://amzn.to/2fbHoMn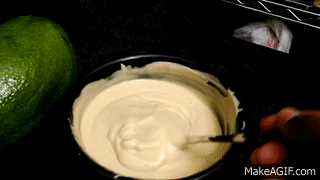 Avocado Protein Deep Conditioner
DIY Home made protein deep conditioner treatment for hair
Ingredients
2,3, or 4 Hass Avocados OR 1/2 - 1 large Avocado

Avocado

3, 4, or 5 Tbsp

Olive oil

1/3, 1/2, or 2/3 cups of kefir OR 1.5, 2, or 2.5 Tbsp yogurt

Kefir OR Yogurt

2.5, 3, or 3.5 Tbsp

Mayonnaise

Start with 2.5, 3, or 3.5 Tbsp . After blending, use your own discretion to achieve desired texture and consistency

Jojoba Oil (or any base oil e.g. (Coconut, Almond, Hemp)

Start with 10 drops each. Increase after blending to your desired fragrance

Essential Oils e.g. peppermint, tea tree, cinnamon, lemon, rosemary

Add teaspoons at a time at your discretion if mixture is too thick

Water

blender, bowl, spoon, fork

Utensils
Instructions
Note: Quantities are listed in order of hair length (short to shoulder length, shoulder to mid-back, mid back to buttocks).
Cut the appropriate amount of avocado recommended for hair length. Place corresponding measurements for the edible ingredients ONLY into the blender (avocado, kefir/yogurt, mayonnaise, olive oil). if using yogurt, it may be necessary to add a bit of water or more oil to ensure the contents blend smoothly in the blender.
Blend on whatever setting you use for smoothie. After blending, pour contents into a bowl. Add the appropriate measurements for your base oils and essential oils and stir with a fork.
As you stir, pay attention to the consistency of the mixture and add more olive oil, carrier oil, or water if the mixture is to thick. Mixture should be smoothie consistency.
Continue to stir and incorporate contents, while removing any pieces of avocado that weren't blended. Test the avocado mixture by rubbing a small bit between finger tips.
Add more oil or water and stir until you reach your desired consistency (similar to whipping cream before it starts to form peaks).
Use as you would a normal deep conditioner. Leave in anywhere from 20 minutes to an hour. Make sure to wash this out thoroughly and proceed with your post-wash routine.
Details
Prep time:
Cook time:
Total time:
Yield:

1 use